Would it not be great if you could be instantly alerted if someone gains unauthorized access to your account?
Now you can!
Introducing, Account Security Alerts.


It is not uncommon for a person or company to only be aware of an account intrusion when it is already late. With the constant password hacking and people reusing the same passwords on multiple websites, the risk of having a website account compromised is higher than ever. One of the first things an attacker probably does is trying several different passwords he obtained by illegal means. The first indications equals to failed logins. When an account or service has a lot of failed logins, it usually means an intrusion is in process, even if it was not successful yet.
After an intrusion, an attacker probably changes the password. Another security threat is account hijacking and identity theft, where an attacker changes the details on a customer account to take over the services and data. We previously introduced two-second factor authentication with Netz0 accounts so you can make your services more secure, but now with Security Alerts, you can also be alerted real time when something critical related to security activities happens on your account.
Today, we can inform you if someone changes details on your account, the password as well any failed and successful logins. With this feature enabled, you can be sure that only authorized persons access your Netz0 services. You can manually enable or disable any notification, and we plan to add more notifications based on feedback. If you have any idea, don't hesitate to contact us.
From the security alerts page, you can also view a detailed history of account modifications. You can keep an eye if anyone has previously accessed from another country or device as well the changes made. The history only works if the notifications are enabled so feel free to test out which actions you consider important.



To access Security Alerts first log in to your Netz0 account. Under your profile, there is a new option called Security Alerts.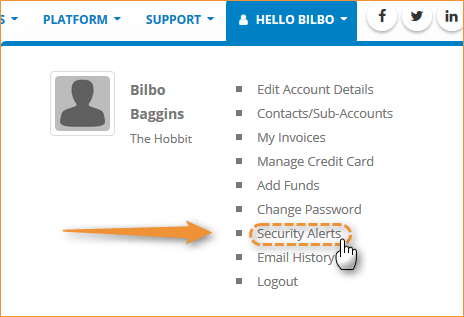 We also plan on expanding notifications based on specific product changes that could be considered a security issue. With account alerts enabled, you are one step ahead of hackers and malicious users. Be notified of breach attempts and take actions immediately.
This new service is free of charge and available now for all Netz0 customers. If you have any specific questions regarding this, or other features, feel free to contact our support team.
Tuesday, August 1, 2017