NetzBuilder Website Builder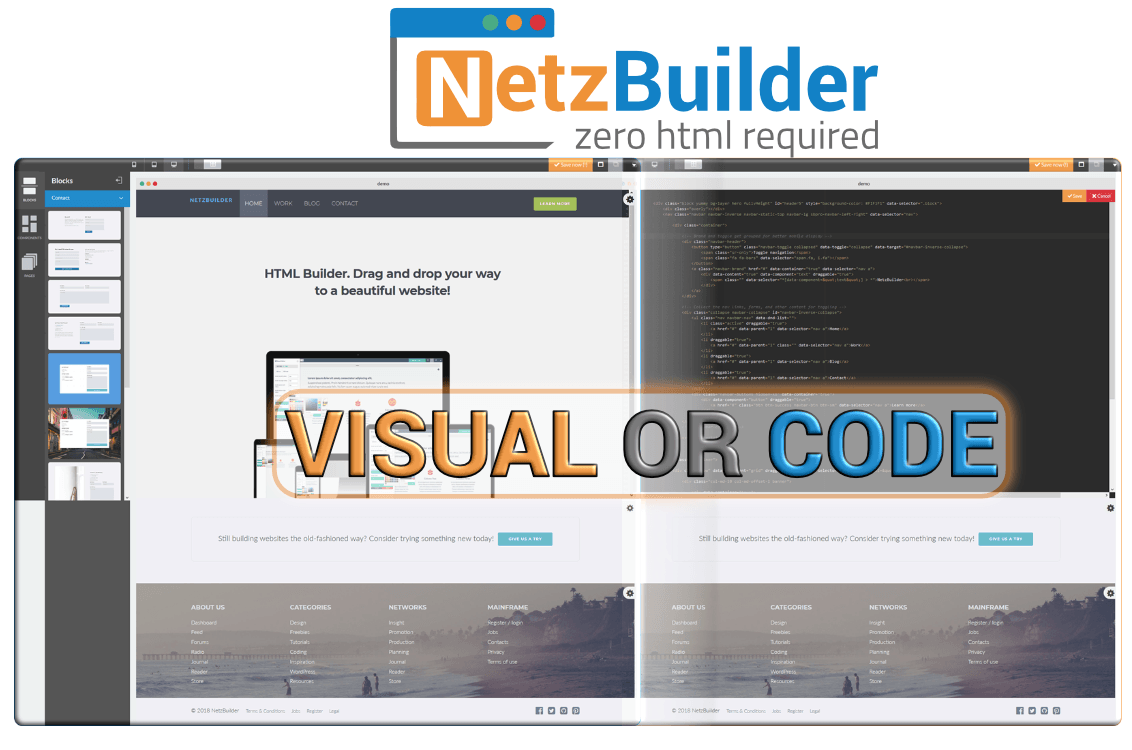 NetzBuilder, the easy and professional website builder. Zero coding required!
Creating a great looking website is easier than ever. No tech or coding experience required. You pick a template and then drag and drop the elements unleashing your full creativity. When we mean zero coding required, we really mean it. If you landed here, it means you already have all the experience necessary to build the next great website on the Internet.
NetzBuilder comes with full support, your own professional domain like your-business.com, an incredible powerful hosting server and amazing designs you can pick. Add your images, video, text and more. You can be online today.
---
Included Features
Own your .COM
No ugly address. Use your brand.
Business Email
Say goodbye to unprofessional free email.
Cloud Server
Premium cloud hosting included.
Drag & Drop
Easy web building. Point & click visual interface.
Beautiful Templates
Pre-made designs ready to use.
24x7 Help!
Support and web development advisors.
Connect Web Apps
100+ apps available to extend your website.
Cloud Editor
Modular smart block building from anywhere.
your website starts here...
Freedom meets quality with NetzBuilder. Don't settle for another limited template-based web editor. Our robust platform guarantees that anyone can have a professional website running today. Zero risk-free trial!
View Demo
Create Site
Entrepreneurs
Made for those that create. Launch an online business with our powerful drag and drop interface and have a full working website without any coding.
Developers
NetzBuilder is built for developers. With clean HTML5 and CSS3 blocks, you can do rapid development. Need to dig further into the code? Go for it.
Designers
With amazing modular design layouts, web designers can focus on creating beautiful fast and responsive pages without worrying about code quality.